BUDGET
The Road Department receives funds from several sources. This includes, the state wide gas tax, vehicle registration fees, truck weight mile tax, county general fund, aggregate fees, and federal funds. By law, all the money we receive from the state and federal government is required to be spent within the Road Department and cannot be shared with other departments or agencies. The majority of money, received by the Road Department, comes from the state gas tax and vehicle registration fees, about 72%. The money collected from these taxes and fees is put into a statewide pool and divided between state, county and city agencies as well as metropolitan planning organizations such as Metro. Counties receive funds based on the number of registered vehicles within the county.
2003 - 2004 Budget Year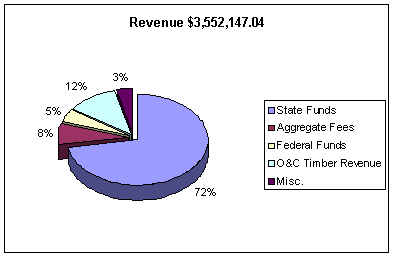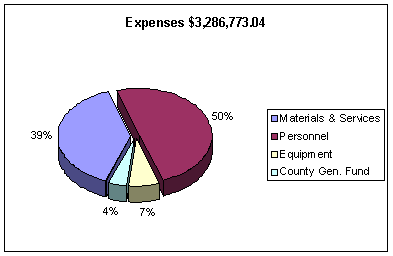 Total Revenue and Expenses do not match because some money is put away for emergencies and some money is carried over and combined with the following years revenue to perform large projects. Federal funds are distributed by the state. Once the funds are spent, the Road Department is reimbursed. This is only a summary of the Road Department budget. It represents our normal operating revenues and expenditures.
The Cost of Doing Business
In the ideal world, every road would be paved, at least 20 feet wide with 3 foot shoulders. Unfortunately, funding is limited and pavement is very expensive. An asphalt overlay can range anywhere from $95,000 to $130,000 per mile depending on the width of the road and cost of the asphalt.
Making a gravel road into a paved road is not as simple as just laying down asphalt. The quality of the ground underneath the pavement is just as important as the quality of asphalt. The prep work required can vary, but can easily add $100,000 to the cost per mile.
Pavement doesn't last forever. Without routine maintenance, the asphalt will breakdown making it worthless and will cause damage to the road base. All the money that was put into the initial investment to pave the road may be lost. Unfortunately, this is the condition of many county paved roads now. This condition is worsened because many of the county's paved roads were constructed for traffic loads much lighter than what they are receiving today.
It is a tough decision on what roads to pave with limited funds. The reality of the situation is there are not the funds necessary to maintain even our most important paved roads. Heavily traveled through routes that have an economic impact to the county are usually first on the list to receive additional pavement. Other factors to consider are safety, drivability and cost to maintain.
Just to put a pavement overlay on the paved roads we have now, on a routine basis, would take an expenditure of about $2,255,000 per year (see below for calculations). Every year that goes by, the cost of fixing the roads increases and changes the maintenance strategy from preservation to reconstruction.
350 miles of paved roads, Roads should be paved about every 17 years, "It is possible for overlays to last more than 15 to 20 years" [National Asphalt Pavement Association]), $110,000 per mile for pavement
350 miles / 17 years = 20.5 miles/year @ $110,000 per road mile = $2,255,000 required per year
Historically, we have enough funds for about $100,000 per year for asphalt overlays, only 4% of what is necessary.