Contact Information
230 Strand St.
St. Helens, OR 97051
(503) 397-7214
(503) 397-7266 fax
E-mail:
This email address is being protected from spambots. You need JavaScript enabled to view it.
LEGAL NOTICES / PUBLIC ANNOUNCEMENTS
CURRENT ELECTION INFORMATION
November 7th, 2017 Special Election
Election Night Reporting
Results Reporting Schedule. Election results will be published beginning at 8pm Tuesday, November 7th according to the following time table. Columbia County-only results will be posted at the link in the department menu titled "County Election Night Results"
1st Report: at 8pm.
2nd Report: between 10:15 and 10:30 pm.
3rd Report: at close of election night counting.
Election results will not be certified until 22 November
VIEW PCC DISTRICT-WIDE RESULTS. To follow the PCC District wide results for Measure 26-196, please click the link and/or graphic below that will take you to the Oregon Secretary of State's election night results reporting website.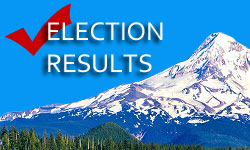 http://results.oregonvotes.gov/SearchResults.aspx?ID=64
Important dates
| | | |
| --- | --- | --- |
| | September 23, 2017 | Overseas ballots to be mailed. |
| | October 9, 2017 | Out of state ballots to be mailed. |
| | October 17, 2017 | Last day to register to vote. |
| | October 20, 2017 | Ballots to be mailed to Columbia County |
| | November 7, 2017 | Election Day: County Elections office open 7am to 8pm. Dropsites close at 8pm. |
| | November 21, 2017 | Last day to resolve ballot challenges. |
Receiving your ballot
Replacement Ballot Requst Form- SEL112
Ballot Return
Measure 26-196: Portland Community College Bond
UPCOMING ELECTION INFORMATION
January 23, 2018 Oregon Special Election
State Measure 101
Important dates
May 15, 2018 Oregon Primary Election
Important dates
Columbia County positions scheduled to be on the ballot. (Filing deadline: March 6, 2018)
County Commissioner, Position 2
County Clerk
County Assessor
Note: District Attorney is a State of Oregon filing
PREVIOUS ELECTION INFORMATION
May 16, 2017 Special District Election
General Information